Case Study
Aptible's critical role in Project Beacon's rapid delivery of COVID-19 testing
"You would be spending weeks or months of engineering labor to get all of the things you get baked into the costs from Aptible."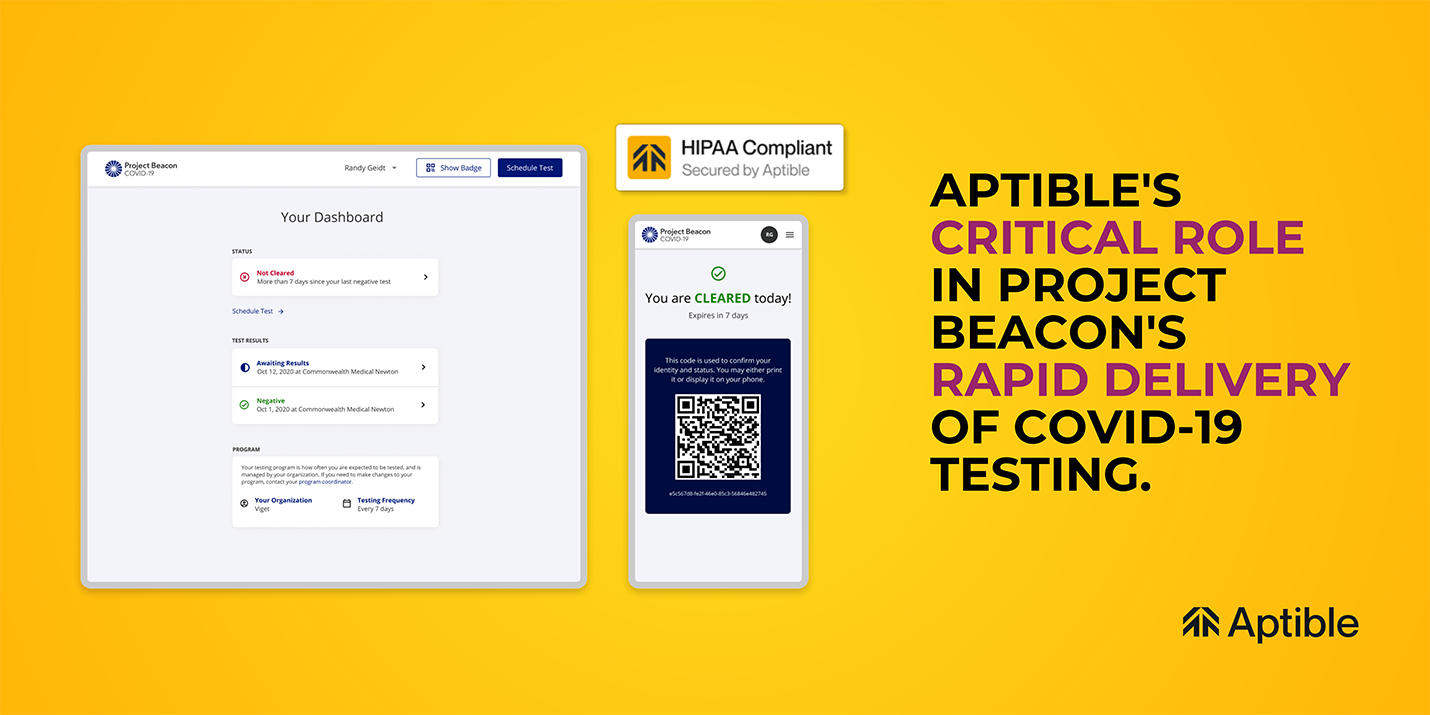 Project Beacon is a social benefit organization that's committed to increasing the availability, accessibility, and affordability of COVID-19 testing in Massachusetts.
---
The group—which was founded by F-Prime Capital, GV and the Broad Institute of MIT and Harvard—works with schools, healthcare providers, and other institutions to help them make testing as ubiquitous and effective as possible.
Using Aptible, the Project Beacon team was able to build a secure and compliant website online rapidly, helping mitigate the impact of the pandemic.
Responding to an unforeseen pandemic
If there's one silver lining in the COVID-19 saga, it's the story of human ingenuity—and how people all over the world rose to the occasion to answer the pandemic's challenge. As Massachusetts scrambled to get COVID-19 testing rolled out across the state, the founders knew the state would be best served by a digital platform that could facilitate the tests and, ultimately, vaccine rollouts.
This is where the idea for Project Beacon was born.
Since time was of the essence, the Project Beacon team knew they needed to get something built on the web as quickly as possible. But there was one major caveat: Due to the sensitive nature of COVID-19 testing data, the platform had to be fully HIPAA-compliant and highly secure.
"We weren't interested in building infrastructure from scratch," explains M. Jackson Wilkinson, Project Beacon's Chief Technology Officer. "We needed to bring things up in a solid and compliant way in a short period of time."
A proven tool with baked-in compliance and security controls
In a previous life, Wilkinson was SVP of Product, Design and Engineering at PathAI. During his time there, he became a huge fan of Aptible. Once he joined Project Beacon, Wilkinson swiftly made the decision to use Aptible to bring the group's platform online. As a result, the team was able to deliver a HIPAA-compliant solution with the administrative and technical controls needed to satisfy the requirements of the government agencies and organizations Project Beacon was working with.
"Aptible gave us the line of sight that led to being able to even take on the project in the first place," Wilkinson continues. "We might not have done it otherwise."
Rapid implementation and immediate impact
With Aptible, Project Beacon knew what they were building was backed by enterprise-grade security and privacy protocols. As such, they were able to get their platform to market in short order.
By August, Project Beacon administered over 900,000 COVID-19 screenings, working with schools, employers, and state and local governments to operate testing programs of all shapes and sizes. Project Beacon was able to help external partners evaluate the costs and benefits of different testing strategies, open safe collection sites, and report accurate information to patients, labs and public health officials.
"It was boilerplate to get things going," Wilkinson says. After writing up an intro doc for his engineering team, "folks were more or less off to the races."
Instead of enduring the hundreds of steps traditionally required to bring code from your developer environment on your laptop to a public website, Aptible enabled the team to boil that all down to a handful of checklist items and, ultimately, a single action.
"It saves many hours a week," Wilkinson says. "Potentially hundreds of hours of work."
"With a half-hour of show-and-tell, you can give your average engineer the tools they're going to need to be productive right out of the gate."—M. Jackson Wilkinson, CTO, Project Beacon
A cost-effective solution that met the highest security and compliance requirements As a social benefit organization, Project Beacon is not focused on maximizing revenue—which means they have to be conscious about costs. Thanks to Aptible's flexible pricing tiers, the team was able to deliver a solid platform without worrying about breaking the bank.
In fact, Project Beacon's work has been attributed to a steep drop in testing prices in New England since their sites opened, as the organization put pressure on the rest of the industry to deliver high-quality testing at a low cost amidst the public health emergency.
"We didn't have to pay anything upfront to get started and get moving," Wilkinson says.
Additionally, Aptible's built-in security and compliance features ensured the time-crunched team didn't have to devote precious engineering resources toward reinventing the proverbial wheel.
"You have to consider what the costs of developing all the tooling would be if you were to go with bare AWS," Wilkinson explains. "You would be spending weeks or months of engineering labor to get all of the things you get baked into the costs from Aptible."
A continuously evolving, purpose-built application platform
Over the years, Wilkinson has used Aptible to deliver impactful projects in different roles. He's always been impressed by the Aptible team's accessibility and responsiveness when it comes to customer success and troubleshooting issues.
"Knowing the Aptible team is always an email or Slack message away is great," Wilkinson says. "Rather than thinking everyone needs to funnel through one person on the team, you just ask Aptible. Sometimes you get an answer—and a new feature."
Having used the platform successfully for years, Wilkinson is quick to recommend it to folks considering their options.
"There may be a box that Aptible doesn't check today. But the platform is in such rapid development, and the team is working furiously," he explains. "Talk with the customer success team about your needs because you may find out some of those boxes you need to be checked are not far down the road."
Thanks to Aptible's commitment to continuous improvement, Project Beacon has the peace of mind that comes with knowing they're using tools that can scale alongside them and adjust accordingly.
Scalable infrastructure to share with the future
We all hope the pandemic is in the rear-view mirror as soon as possible. Once that happens, the Project Beacon team will disband, donating any leftover funds to charity.
When the dust settles, the team's infrastructure and tooling—which includes Python and Django on the backend, ReactJS on the frontend, PostgreSQL for databases, and S3 and Cloudflare—may be able to help other projects get online just as quickly.
"That's the hope," Wilkinson concludes. "The key goal has been to get us through COVID-19, but we'd love to see the impact of our work well into the future."